[amateure match] [abundantlove] [adventistmatch] [AfricaSingles.net] [afroconnections] [afrodateline] [afrointroductions] [agapeonline] [ajewishdatingsite] [American Singles] [Amigos] [antopia / mpwh.net] [arkline] [Asian Friend Finder] [Asian Singles Connection] [atlastwemeet] [bbw personal plus] [beautiful-ladies] [beandate] [bicafe] [Big Church] [bitachon] [blackandwhitesingles] [blacksingles] [blacksinglesconnection] [bluexotica] [bridesbymail] [butch-femme]
Afrodateline is a personal ads website that provide people from Africa, African descent and their friends a fun and interactive ways to meet create, friendship or possibly begging a new romance.
There are several sites dedicated to people of African decent, such as afroconnections , ebonymate and blacksingles.
This one is simple, straight to the point and very fast to load: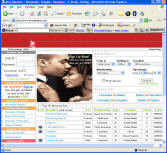 Set up as the personal project of Juan Ngomo a young graduate in SE London laboring to provide an interactive, interesting, and invaluable site where for people of African decent to hangout.
Running for almost two years now this site was put at position 84 on the top 100 Black Web sites list published by http://www.blackwebportal.com.

There are browsable sections for the main interest -- MF, FM, MM, FF. Message boards with a fair number of participants talking about a large number of topics.
A sensible, if a bit short, introduction to dating advice gives some safety tips and pointers but probably could have more.
An advanced search lets you search by all the different things we are used to -- still including ethnicity though you won't find a lot of people if you search for "European" though that remains one of the options. I did such a search for fun and found only two eastern European women!
A more sensible search for African young people with pics unfortunately still only returned a couple of matches. But these were fun and sensible with contact details like AIM name given up front.
So unlike most pay dating sites here is one where you can jump straight in and meet people with no payment. The trouble is it's pretty small. If you really want a large range of people to meet them you should also check out other sites like Afroconnections.
So check out afrodateline and do let me know in the forum if you have anything to tell me about it.